Catalogues
For easier access, right click and save to your desktop for your quick referencing guide. If you would like to purchase any of these products you can conveniently add the part number to our EXPRESS ORDER webpage. You can check out as a guest, or log in and checkout with your account. Please contact us if you require assistance.
Catalogue, PDF & Updates
Our products database grows every day so not all items are available in print catalogues. Please make good use of the Stareast search bar in the top right corner of this page with either a part number or description to see if the item you require is in fact stocked. As always, get in touch with us if you cannot find what you are looking for. Below are some selections of catalogues for download.
Emerson/Copeland

Black Diamond Tools
Testo
Bitzer Buffalo Trident Evaporators
Greenhalgh Evaporators

EVCO
EVCO Controllers for Refrigeration Catalogue (7MB)
Aspen Pumps
Durkeesox

Capro Aero Flux Axial Fans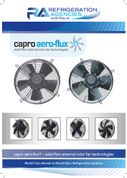 Capro Aero Flux Axial Fans Catalogue
2014-2015 Catalogue & Information Guide

- ALL 3 SECTIONS IN 1