WE ARE STILL OPEN
TRADE COUNTER IS LOCATED AT 45 BRYANT ST PADSTOW NSW 2211
STAREAST STANDARD OPENING TIMES ARE FROM 7AM TO 5PM WEEKDAYS AND 8AM TO 1PM SATURDAYS
WEB ORDERS RECEIVED BEFORE 12-2PM AEST ARE LIKELY DISPATCHED THE SAME BUSINESS DAY

Updated Monday 22nd September 2021: STAREAST REMAINS OPEN. We will continue to support the heating, cooling and appliance maintenance trades and industries requiring critical hardware and advice in addition to essential spare parts and equipment for emergency work, services & repairs. Our Warehouse dispatch, office, sales, engineering and trade counter teams will continue to serve you uninterrupted. COVID SAFE practices are in place and the Stareast trade counter is still open for walk-ins to all Cash Account and 30 Day Account trade customers. Members of the public are also welcome to walk-in for click and collect however an online order is strictly required before arrival. For after hour emergencies and urgent refrigerant specialist advice, as always you can call 0297925988, press 2 and one of our on call engineers will answer your enquiry.

Don't forget to wear your mask and check-in using our SERVICE NSW QR CODE where required.
PLEASE FOLLOW STAFF INSTRUCTIONS AT ALL TIMES.

Stareast will close only on Monday the 4th of October for Labour Day Public Holiday.

---
CUSTOMERS WHO WOULD PREFER A DIRECT TO BOOT CLICK AND COLLECT: ENSURE THE PICKUP OPTION IS SELECTED AT WEB CHECKOUT AND AWAIT TO HEAR BACK FROM OUR STAFF, USUALLY WITHIN 1-2 BUSINESS HOURS. PARK IN BAY 1 OR BAY 2 ON ARRIVAL, CALL 02 9792 5988 AND ASK FOR CLICK & COLLECT.
---
SHIPPING UPDATES
Please note we are seeing some delivery delays with Australia Post Parcel Post of up to 1-4 weeks, however we always dispatch on time and always within 1 business day! For time sensitive deliveries, please consider selecting express post or expedited courier at checkout.

---

Still can't find what you're looking for?
Use the search bar in the top right header to find thousands of stocked items.
SEARCH BY PART NUMBER, ITEM TITLE AND EVEN DESCRIPTIVE KEY WORDS
OR CLICK HERE FOR THE ADVANCED SEARCH PAGE
---
---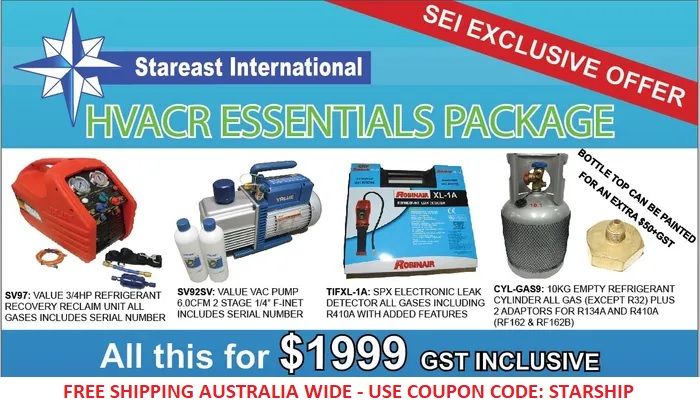 ---
---
REMEMBER TO LOGIN FOR MAX DISCOUNT IF YOU HAVE AN SEI CASH OR 30 DAY ACCOUNT

GO TO OUR OUR FIRST TIME VISITORS PAGE IF YOU REQUIRE MORE INFO ON TRADE ACCOUNTS
---


Last chance to grab your favourite Testo items AT LESS THAN COST! What we have left is below and it still comes with your 3 year Testo manufacturer warranty. Best time to buy is now before EOFY. These items are not priced on our website, to order, call Mario directly on 0404048432. This list will be updated on the home page of our website every week. Once they are gone they are gone. Updated 22/9/21
| | |
| --- | --- |
| 0560 1549 | TESTO 549I HIGH PRESSURE MEASURING PROBE WAS $159 NOW SELLING AT $77.50+GST ONLY 4 LEFT |
| | |
| --- | --- |
| 5305 6332 51 | TESTO 320 FLUE GAS LOW COST KIT+ BLUETOOTH WAS $2300 NOW SELLING AT $1500+GST - ONLY 1 LEFT |
| | |
| --- | --- |
| 0563 1550 | TESTO 550 DIGITAL MANIFOLD + BLUETOOTH WAS $650 NOW SELLING AT $400+GST - ONLY 19 LEFT |
| | |
| --- | --- |
| 0563 2550 | TESTO 550 MANIFOLD WITH 3 HOSES WAS $750 NOW SELLING AT $450+GST - ONLY 11 LEFT |
| | |
| --- | --- |
| 0635 0551 | TESTO DIGITAL LUX PROBE FOR ILLUMINANCE WAS $750 NOW SELLING AT $485+GST - ONLY 3 LEFT |
0563 0003

TESTO SMART PROBE VAC SET KIT WAS $550 NOW SELLING AT $420+GST - ONLY 7 LEFT - includes 405i, 410i, 605i & 805i in a handy proffessional carry case

0563 0004
TESTO SMART PROBE HEATING SET KIT WAS $363 NOW SELLING AT $300+GST - ONLY 21 LEFT - includes 115i, 510i, 805i in a handy proffessional carry case
0563 0005
TESTO 405I + 415 HOOD EXHAUST AIR VOLUME FLOW KIT WAS $650 NOW SELLING AT

$200+GST

- ONLY 36 LEFT