405I + 415 HOOD EXHAUST AIR VOLUME FLOW
Regular Price: $379.56 (inc GST)
Regular Price:
$379.56 (inc GST)
Description
Exhaust air volume flow kit

1 x testo 405i (Stareast P/N: RT05601405) thermal anemometer with smartphone operation
1 x testovent 415 volume flow rate funnel (Ø 210 mm/210x210 mm)
For the practical measurement of exhaust air volume flow at air outlets
Easy configuration of size and geometry of the outlet cross-section
No input of the funnel factor required – this is stored in the testo Smart Probes App
Really convenient to operate thanks to testo Smart Probes App (e.g. easy viewing of readings, measurement data trend, report function)
The ideal kit for measuring and checking the suction performance of ventilation systems: the testovent 415 volume flow rate funnel in combination with the testo 405i thermal anemometer enables determination of the volume flow (in m³/h). The measurement funnel can be used on ventilation systems which extract air from rooms via adjustable cross-sections and is suitable for air vents with
a maximum edge length of 190 mm or a maximum diameter of 210 mm.
Via the testo Smart Probes App installed on your mobile terminal device, you can conveniently view readings, configure volume flow measurements quickly and easily, and reliably determine timed and multi-point mean values. The measurement data reports can then be e-mailed directly as pdf or Excel files.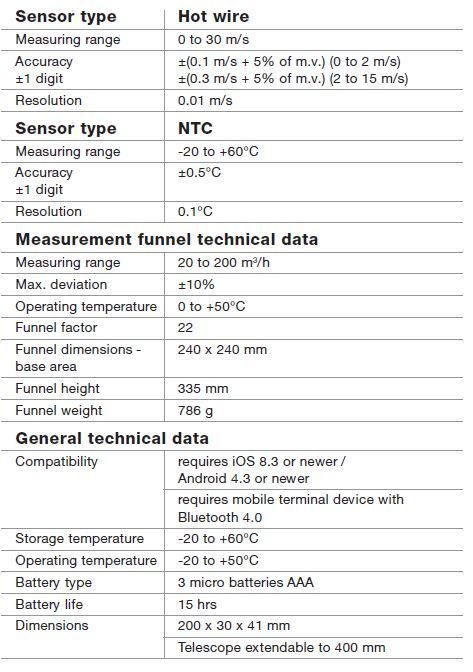 Please log in for more technical information.