Payment Methods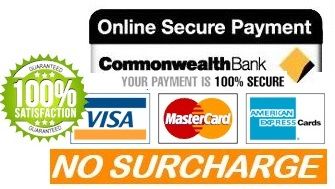 COMMONWEALTH BANK SSL SECURED ONLINE PAYMENT GATEWAY
For SSL secure payments via Visa, Mastercard & American Express, this can be selected at checkout via the Stareast Website for all online orders with no additional fees or surcharges. You can even select trade counter pickup and have your order ready for collection on arrival or choose to have your order delivered.


COMMONWEALTH BAK ONSITE MERCHANT TERMINAL CREDIT CARD PAYMENTS:
In store credit card transactions via our trade counter and/or trade account credit card payments by phone will incur a credit card surcharge that is charged at cost by our on site merchant terminals. This helps us keep our prices lower. Cash and EFTPOS transactions via our trade counter remain surcharge free.


EFTPOS AND CASH PAYMENTS:
There are no payment surcharges for these payment types. Available during opening hours at our trade counter, located at 45 Bryant St Padstow NSW 2211. 7am-5pm weekdays and 8am-1pm Saturdays (check homepage for holiday opening hours where available).


CASH & CREDIT ACCOUNTS:
Accounts are available to approved trade customers who regularly purchase product from us and meet a minimum yearly spend. Cash accounts pay as they go and for credit accounts, payments can be made 30 days after the end of the month. Please note a credit card surcharge applies when paying any 30-day account balances in store or by phone.

Three months of trading is required before a 30 day credit account will be considered. For more information or to download the cash (COD) or 30-DAY credit account forms, you can visit our

FIRST TIME VISITORS

page.


BPAY & DIRECT BANK DEPOSIT:
These 2 payment options are reserved only for customers with a Stareast cash or credit account. Stareast's BPAY account details can be found on your invoice/order confirmation. Our BPAY biller code is 514240 - Use your account number, invoice number or order number as your reference when paying an account/invoice.

Due to the high volumes of orders we process on a daily basis, direct bank deposit is our least preferred method of payment for cash account customers so we encourage you to select other payment options we have provided. If you MUST direct debit, please note our account details below and ensure you use your name, customer code or the "Stareast Online Order Number" provided to you as your reference so that it is easier for us to recognise, allocate the payment and prevent order delays. You may also want to email us a receipt from your bank so that your order may be processed sooner. We encourage direct bank transfer for 30-Day account customers. Our bank details are:

Account Name: Stareast Int
Bank: Commonwealth Bank of Australia
BSB: 062 111
Acct: 1106 9799


CHEQUES:
Cheques are accepted for 30 Day Credit Account payments only. We unfortunately must refuse all other cheques as we would have to wait for funds to clear before you can receive any goods or services.


ZIP PAY / ZIP MONEY / ZIP BUSINESS:
Online Only Buy now and Pay Later. Not available to cash account or credit account holders or via SEI trade counter. Fees may apply through Zip but we have NO SURCHARGE for using this payment method. You will be directed to the Zip website after successful online checkout.


PAYPAL:
Payments via PayPal can be selected at checkout via the Stareast Website for all online orders with no additional fees or surcharges. Also if you are a non-account customer wishing to pay via direct deposit, you can more easily do so via PayPal.


-------
PLEASE NOTE ALL LISTED PRICING IS STRICTLY AUD
-------
GST IS NOT CHARGED FOR INTERNATIONAL ORDERS
THE BUYER IS RESPONSIBLE FOR ALL IMPORT FEES / CUSTOMS CHARGES / DUTIES